Asian American Community Fellowship Reflection: Julia Song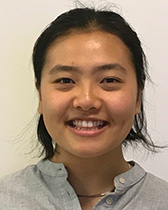 Asian American Community Fellowship Reflection
By Woojae Julia Song
October 15, 2018
Every weekday this summer, I practiced and perfected the art of running to the Purple Line Davis stop from my Evanston apartment in under three minutes to arrive at work on time. The generous Asian American Community Fellowship allowed me to support Asian American communities through two internships in Chicago, including an organization I'd call a dream. I split my time between communications at Asian Americans Advancing Justice-Chicago (AAAJC, three days per week), an Uptown-based community organization fighting for racial equity and building power across Asian American and other communities of color nationally, and research and organizing at the Printer's Row-headquarters of Grassroots Collaborative (GC, two days per week), a coalition of labor unions and community organizations coordinating their work for economic justice across Illinois. Over nine weeks I gained clearer ideas about communications work for non-profits, observed the realities of coalition building, learned to vocalize my needs, and began relationships with incredible people. I also learned about the best cheap eats the Uptown neighborhood offers.
I'd characterize my day-to-day work at Advancing Justice as dynamic, which lended to both challenges and highlights. I got my foot in several doors. Working primarily with a wonderful co-intern (and fellow Northwestern student) and the communications director, I supported the organization's efforts to implement state-level legislation to improve protections for Illinois' immigrant communities, with the concrete goal of pressuring Governor Rauner to sign three bills. We gathered local support for bills about making public locations like hospitals and schools ICE-free, streamlining visa application documents for immigrant domestic violence survivors, and simply committing Illinois to refuse contributing state funds to any federal registry (should it arise). Additionally, we worked with the development team to plan a fundraising campaign using strategic framing and language, and I also gained some organizing skills by participating in an organizing workshop and canvassing at Argyle Night Market.
Downtown at Grassroots Collaborative, I had the chance to participate in coalition building's daily work. Under the supervision of organizers, myself and another intern researched Chicago-area policies in preparation for a campaign geared toward November's midterm elections. For a longer-term project, I also compiled and designed a history timeline for the organization's popular education workshops, which juxtaposes the efforts marginalized communities made to build power against legal white supremacist policies.
Before covering my challenges, I want to clarify that many of my frustrations stemmed from my choice to juggle two internships. So I'd recommend future grantees focus on one internship--I worked outside hours because I wanted a more holistic experience and enjoyed the opportunity, but honestly I often ended weeks exhausted. That said, seeing two very different organizational operations gave me necessary clarity.
I entered GC during the initial stages of their campaign, meaning many meetings, frequent changes in direction and subsequent confusion about my projects. I voiced the gap between the expectations and reality of the internship, and my supervisor sympathized but could not remedy the issue (because they experienced these changes simultaneously). However, I assessed how to balance the organization's capacity with its unique offerings to maximize my experience. I learned much about local politics through research leads, re-learned U.S. history (think Asian American studies expanded across communities and time) through my timeline project, and met an organizer I admire, who worked in an office across the hall. Eventually I had the opportunity to participate in the youth-led No Cop Academy campaign using my media skills. At AAAJC, I mainly wish I expressed my desire to diversify my skillset earlier in the internship (because my supervisor responded reasonably and listened openly). The internship should not only fulfill the organization's priorities but also expand your learning goals.
In addition to concrete skills and clear lessons, learning by osmosis truly enriched my experiences. I interacted with many folks in the diverse Asian American communities in Chicago and the Midwest, who carry the histories, identities, solidarity and tensions we study in classes. I learned more about the relationship Pacific Islanders communities have with Asian American communities, and understood the necessity of protest by doing, repeatedly. I really enjoy energy and emotions that emerge during rallies and community gatherings.
And as an Asian American woman who grew up knowing zero political Asian Americans, working at organizations led by Tuyet Le and Amisha Patel, two inspirational women of color, showed me the necessity of identity politics. Relatedly, working in the AAAJC office renewed my faith in the possibilities of an office job, amazing co-workers and feeling Good at work. Finally, I met powerful young people organizing their communities through both organizations, who humbled me deeply and cracked my ageist outlook.
Summer ended abruptly as it usually does here. Fall quarter is rapidly picking up, I am a taking my last classes at Northwestern, and my work this summer stays in my heart. I'm still working with AAAJC in volunteer and freelance capacities for their civic engagement efforts and communications. In the near future, I'd love to stay in Chicago and work toward journalism that uplifts the individuals and communities that keep this city going, including many Asian American folks.
P.S. A key part of my work at Advancing justice involved photographing various events, which you can see at https://woojaesong.com