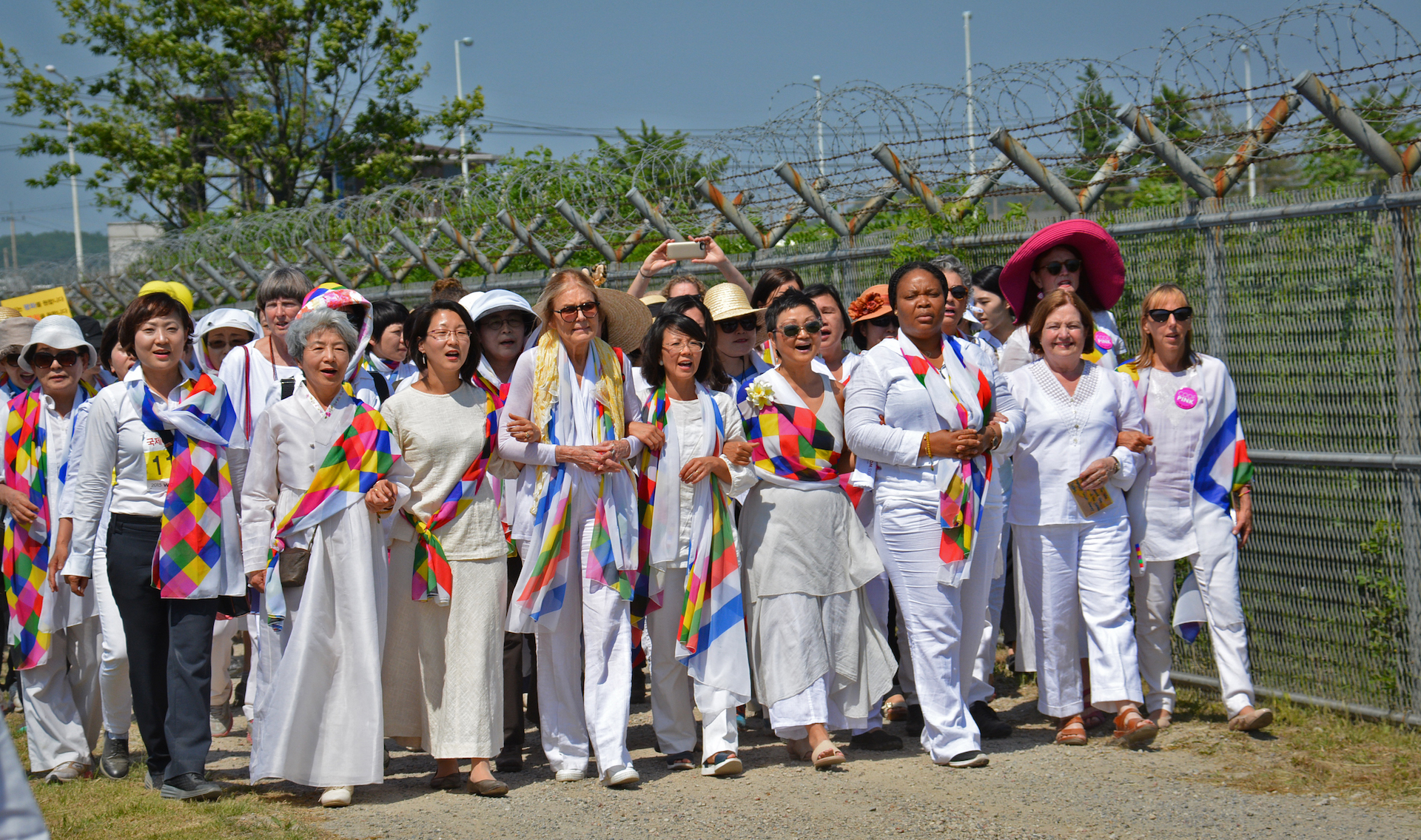 "Crossings": International Feminist Peace Activism in Korea
Join us for a film screening and panels on Deann Borshay Liem's "Crossings" (2021), which documents the peace activism of "Women Cross DMZ," a group of international women peacemakers who walked across the demilitarized zone between North and South Korea to forge a path toward peace and reconciliation. In "Crossings," a group of international women peacemakers, including renowned activists Gloria Steinem and Christine Ahn, sets out on a risky journey across the demilitarized zone between North and South Korea, calling for an end to a 70-year war that has divided the Korean peninsula and its people. The challenges the women face, the obstacles they overcome, and the solidarity and trust they build as they forge a path to peace with their Korean sisters, is an inspiring story of bridge building and collective action.
The film screening will be accompanied by a scholar panel and a Q&A panel with the filmmaker and activist. International feminist peace organizing efforts is a form of energy generated by the longer efforts to bring peace to the Korean peninsula. As part of the Kaplan Institute's Energies Dialogue, the event will address how the organizing efforts intersect with the artistic and scholarly energies surrounding Women Cross DMZ and Korean American organizers who have worked hard to sustain a lively and engaged community of diasporic organizers and international feminist peace activists. How do we approach and recreate the energies of past direct actions towards future ones to end militarization and war in the region? Given militarism's global environmental toll as one of the largest polluters, and the complex eco-system that has developed in the DMZ, how might we consider direct actions of Women Cross DMZ as a conservational effort towards a greener future?
The event is free and open to the public. For inquiries, please contact Jeong Eun Annabel We or Emily Mun.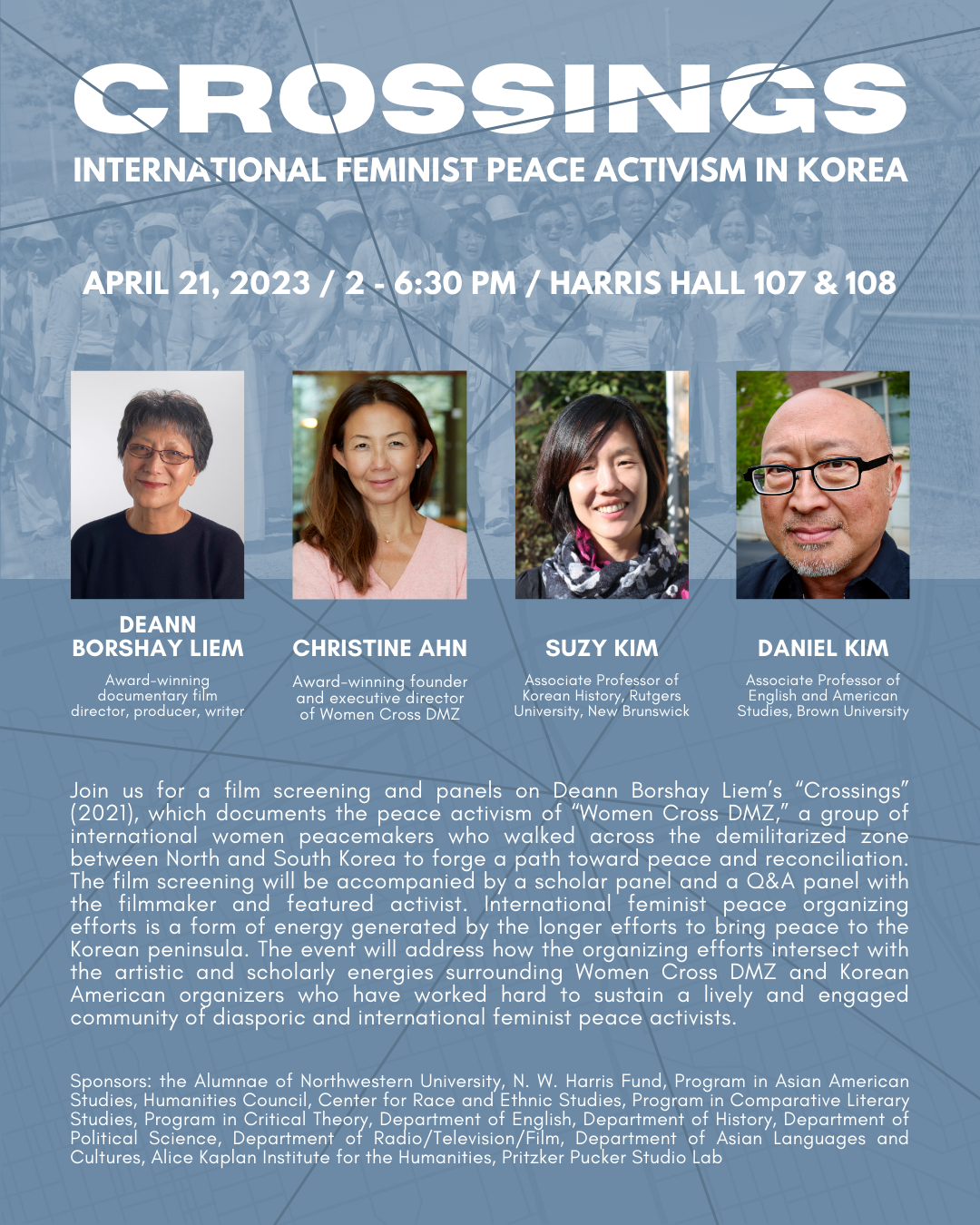 Speakers
Deann Borshay Liem
Award-winning documentary film director, producer, writer

Deann Borshay Liem is an Emmy Award-winning documentarian known for films that explore war, memory, family and identity including her landmark adoption films First Person Plural, In the Matter of Cha Jung Hee and Geographies of Kinship. Her work on the Korean War including Memory of Forgotten War, Crossings and the oral history project, Legacies of the Korean War, explores divided families and women's role in peacemaking. She has served as Executive Producer, Producer, Executive in Charge and consultant on numerous films including The Apology, Mimi & Dona, Seeing Allred, Who Will Write Our History, Dorothea Lange: Grab a Hunk of Lightning, Ishi's Return, The Eddy Zheng Story, Kelly Loves Tony, AKA Don Bonus and many others. She is the recipient of grants and fellowships from the National Endowment for the Humanities, National Endowment for the Arts, California Humanities, Sundance Institute, Rockefeller Foundation and San Francisco Film Society. She is currently serving as Producer for the ITVS-supported film, Vivien's Wild Ride, and is directing a new documentary that looks at the intersections between US military occupation, Korean military brides, and transnational adoption.
Christine Ahn
Award-winning founder and executive director of Women Cross DMZ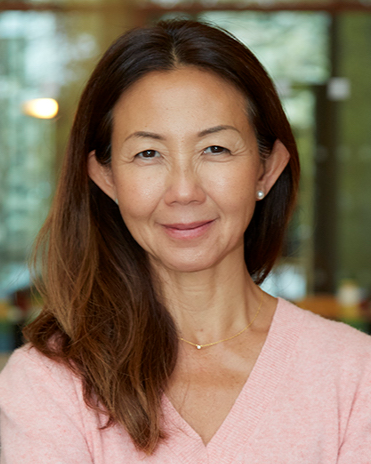 Christine Ahn is the Founder and Executive Director of Women Cross DMZ, a global movement of women mobilizing to end the Korean War and ensure women's leadership in peace building. Ahn is the International Coordinator of the Korea Peace Now! transnational campaign, which Women Cross DMZ launched in 2019 with three other feminist peace organizations, WILPDF, Nobel Women's Initiative, and Korean Women's Movement for Peace. Christine helped create the Feminist Peace Initiative, which Women Cross DMZ built with MADRE and Grassroots Global Justice Alliance, to reimagine a feminist, movement-driven US foreign policy. She has addressed the United Nations, US Congress, Canadian Parliament and the ROK National Human Rights Commission. Christine is also the co-founder of the Korea Policy Institute and the Korea Peace Network, and has worked with the Global Fund for Women and the Women of Color Resource Center. Christine serves on the board of Hawai'i Peace and Justice. She is the recipient of the 2020 US Peace Prize for her bold activism to end the Korean War, heal the wounds from the war, and women's leadership in peacebuilding. Ahn has a master's degree in International Policy from Georgetown University.
Suzy Kim
Associate Professor of Korean History, Rutgers University, New Brunswick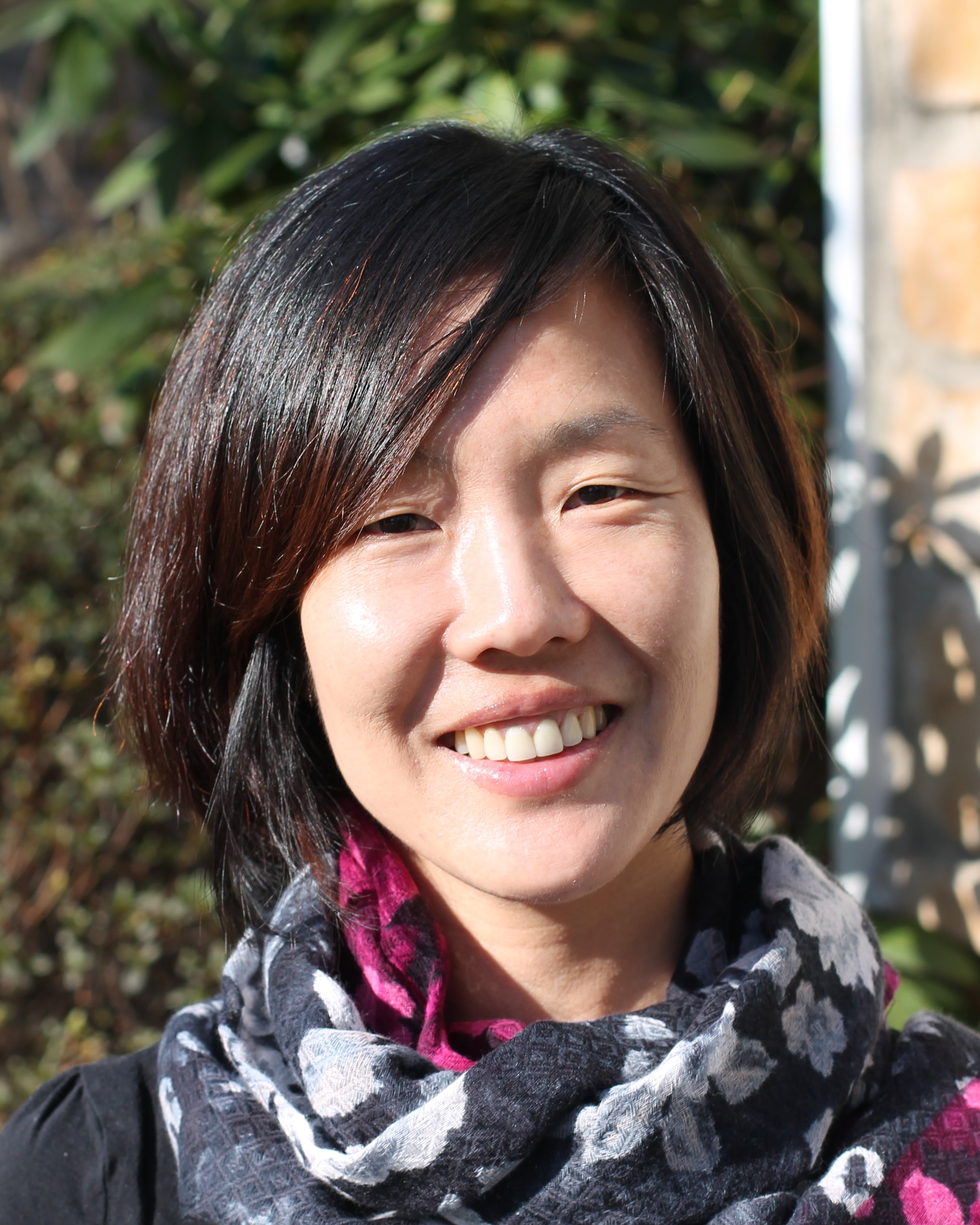 Suzy Kim is Associate Professor of Korean History at Rutgers University, New Brunswick. Her book Everyday Life in the North Korean Revolution, 1945-1950 (Cornell University Press, 2013) won the James B. Palais Book Prize in Korean Studies from the Association for Asian Studies in 2015.
Daniel Kim
Associate Professor of English and American Studies, Brown University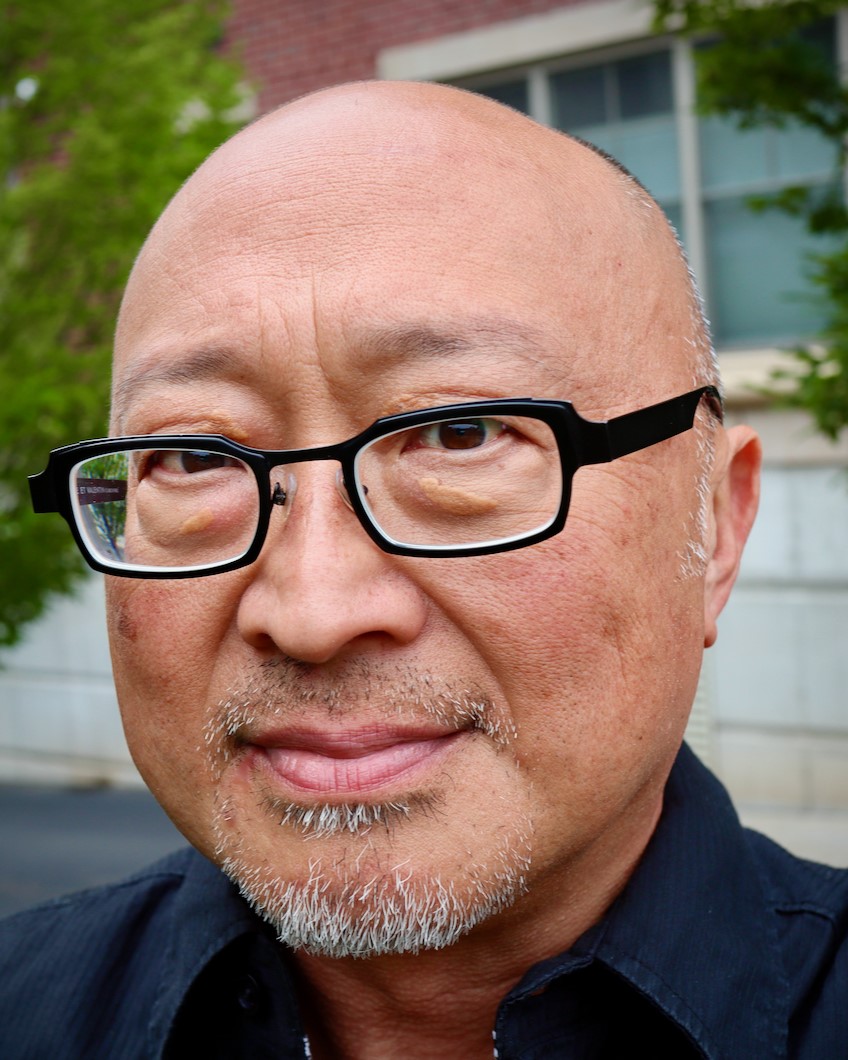 Daniel Kim is Associate Professor of English and American Studies at Brown University. He is the author of The Intimacies of Conflict: A Cultural History of the Korean War (NYU Press, 2020).
SCHEDULE
Part 1: Film Screening
Harris Hall Room 107, 1881 Sheridan Rd, Evanston
2 PM - 3:40 PM Film Screening (94 min. run time)
3:40 PM - 3:50 PM Break
Part 2: Panels & Reception
Harris Hall Room 108, 1881 Sheridan Rd, Evanston
3:50 PM - 4:30 PM Panel 1 with Director Deann Borshay Liem and Activist Christine Ahn
4:30 PM - 4:40 PM Break
4:40 PM - 5:30 PM Panel 2 with scholars Suzy Kim and Daniel Kim
5:30 PM - 6:20 PM Reception with light refreshments
Film Synopsis
In CROSSINGS, a group of international women peacemakers sets out on a risky journey across the demilitarized zone between North and South Korea, calling for an end to a 70-year war that has divided the Korean peninsula and its people. The groundbreaking mission of Women Cross DMZ is captured in an intimate cinema vérité style, framed with historic newsreels of the Korean War and punctuated with dramatic contemporary news coverage.
Although the Korean War was halted by armistice in 1953, the warring parties never signed a peace treaty. Nearly 70 years later, the threat of renewed fighting looms as American troops continue to occupy the Korean peninsula, North and South Korea remain adversaries, and millions of Koreans are tragically separated from their family members.
From threats of annihilation to promises of peace, the rollercoaster ride of U.S.-North Korea relations provides key moments of drama throughout the story. But the film's protagonists are thirty women activists from Asia, Africa, Europe, North and South America who dare to tread forbidden territory to draw global attention to the unresolved war and demand a seat at the table in bringing about peace. Korean American Christine Ahn rallies the group, including feminist pioneer Gloria Steinem, Nobel Peace Laureates Leymah Gbowee and Mairead Maguire, former Army Colonel Ann Wright, and Code Pink co-founder Medea Benjamin.
The intrepid team faces daunting logistical and political hurdles as they make their way toward the DMZ. When their crossing becomes precarious, the women debate how to proceed, forging deep respect for their differences and greater unity every step of the way. With a last minute reprieve from North and South Korean militaries, the group ultimately crosses the DMZ, to be met by protestors who accuse them of being propaganda tools for North Korea. But their supporters outnumber their critics, as their South Korean counterparts join them for a peace walk along the border.
The heady momentum of their victorious crossing will soon collide with dramatic events: a change of course when newly elected South Korean President Moon Jae-In holds talks with North Korean leader Kim Jong Un inside the DMZ; a year of saber-rattling between Donald Trump and Kim Jong Un, followed by an unprecedented summit aimed at denuclearization of the Korean peninsula and an end to the Korean War. When talks fail at their follow up meeting, the promise of peace is shattered once again.
Undeterred, Women Cross DMZ expands their global campaign to educate and advocate for a peace treaty. Thousands join worldwide as they forge a path with their Korean sisters towards peace and reconciliation.
Sponsors
This event is sponsored by the Program in Asian American Studies and co-sponsored by: the Alumnae of Northwestern University, N. W. Harris Fund, Program in Asian American Studies, the School of Communication's Humanities Collaborative, Center for Race and Ethnic Studies, Program in Comparative Literary Studies, Program in Critical Theory, Department of English, Department of History, Department of Political Science, Department of Radio/Television/Film, Department of Asian Languages and Cultures, Alice Kaplan Institute for the Humanities, and Pritzker Pucker Studio Lab.